Half of the world's adult population struggles with headaches at least once a year.
And while headaches can seem like no big deal most of the time, they also cause very real pain that affects your quality of life.
We've talked to a number of patients who regularly put off seeing a chiropractor specializing in headaches in Upper Arlington and New Albany to help them find relief because so many of us write off headaches as just another part of life.
But, why learn to live with daily headaches when you can ease them away, naturally?
Read on to learn about the very real benefits of chiropractic care for daily headaches.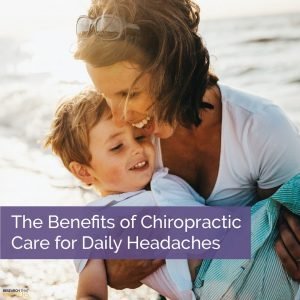 If you're here, it's probably no secret to you that a quick visit to a chiropractor can provide you with the care you need to find actual relief from head, neck, or back pain.
Headaches are among the primary reasons many people in many different countries worldwide see a chiropractor.
Most people think of a visit to the chiropractor when their head, neck, or back hurts for good reason.
We can help you find lasting relief from your headaches in a variety of ways (especially if you're looking for a chiropractor specializing in headaches in Upper Arlington and New Albany).
Here's a quick overview of the top 3 reasons you can benefit from chiropractic care for daily headaches.
How Chiropractic Care Can Help Relieve Headaches
1. We Follow a Whole Person Approach
We will perform a comprehensive history and examination during your initial assessment. This assessment will help us first determine if your symptoms are the result of any spinal issues. We'll also rule out other possible causes of your headaches.
Your history and examination can help us identify your headache triggers so we can advise you about the lifestyle changes you need to find relief as part of your chiropractic care for daily headaches.
For example, the foods you eat can contribute to your risk of experiencing frequent headaches.
2. We Administer Person Specific Chiropractic Adjustments and Care
Recent studies have shown that chiropractic care can help improve headache pain.
Let's look at cervicogenic headaches as an example. A cervicogenic headache is referred pain in the head from the neck. It's what we call a secondary headache because it's caused by another physical issue in the body.
Researchers studying the efficacy of chiropractic treatment for the care of these headaches have presented findings supporting the use of adjustments to lessen their intensity, frequency, and duration. In other studies, chiropractic adjustments were found to provide more relief than deep massage.
In still other studies, chiropractic care has proven to be helpful for the management of chronic migraines.
In an age where medication overuse is frequent, the effectiveness of chiropractic care for daily headaches is exciting news that more people need to know.
Relying too much on medications to mask your symptoms means that many people may never treat the root cause of their headaches.
Those same people also become more at risk for experiencing medication rebound headaches – yes, you read that right. Medication overuse will almost certainly lead to more headaches.
Chiropractors use a number of safe, non-invasive, non-pharmacological treatments for headaches. These include lifestyle education, manual or device-assisted spinal adjustments, spinal mobilization, heat/ice, massage, advanced soft-tissue therapies, and even strengthening and conditioning exercises as you'll see next.
Most people are familiar with the hands-on aspect of chiropractic care for daily headaches, and our clinicians are highly trained in performing gentle and effective spinal adjustments. This training allows us to use our hands to apply a small force to a specific spinal joint. When the force is applied, you might hear a slight pop, and some people feel immediate relief!
3. We Give Guidance That Includes Therapeutic Exercises
As we just noted, yes, chiropractors often incorporate strengthening and conditioning exercises into their patients' care plans.
We want you to find lasting relief after all, and movement goes a long way!
Deep neck flexion exercises are great for treating the cervicogenic headaches we covered above.
Other active care techniques and exercises are another component of chiropractic care for daily headaches that can be performed from the comfort of your own home to help you ease your headaches between your appointments.
Next Steps:
It's time to bring an end to that throbbing in your head, and we're here to help!
You don't need to continue to live in pain.
The benefits of chiropractic care for daily headaches are real.
Movement is a critical part of the healing process, which is why spinal adjustments are so effective and seeing a chiropractor specializing in headaches in Upper Arlington and New Albany is so important – yes, we're talking to you neighbor!
If it's been some time since your last adjustment or you're ready for your first, give us a call.
Our team will be with you every step of the way on your road to headache relief! We are conveniently located in Upper Arlington and New Albany. You can schedule an appointment online or call our offices directly. We also offer text to schedule for your convenience.
Science Sources:
Headache Disorders. WHO. 2016.
Chiropractic Therapy for Headache. BMC Res Notes.2017.
Chiropractic Treatment of Headaches. JMPT. 2011.
Spinal Manipulation for Chronic Headache. Spine J. 2010.