When you reach out to OhioChiro, chances are you will first encounter Tracy Hohman, who serves as the practice's Patient Care Coordinator.
And you will quickly find that Hohman is much more than someone who fields calls for a living.
"Tracy, aka 'Director of WOW', is the glue to our team," said Dr. Sean Caine. "She cares deeply and is a tremendous communicator. As our Patient Care Coordinator, she ensures your experience is amazing from the first call through every step along the way."
Whether she is onboarding new patients, coordinating care and scheduling for existing ones, or working to set up billing via insurance or self-pay, Hohman has the situation covered.
"I'm pretty much the first place you go if you have issues of any kind and if I can't answer them, I'll direct you to someone who can," she said. "I help with the coordination of our providers at OhioChiro. We meet at the beginning of every shift to discuss every patient that day and which provider they're seeing and how we could best help them."
Hohman comes to her position with a rich background and unique skillset.
Prior to taking time to raise her family, she was a clinical psychologist at Vanderbilt University and career counselor at Ohio University, showcasing her interest in helping others and educating them through a process of learning.
She stepped away from outside-the-home employment until Doug Maxeiner approached her about helping at his chiropractic practice.
She worked in this position until Maxeiner partnered with Caine and, eventually, sold the practice to Caine.
Caine quickly learned that Hohman was not only an extremely valuable office manager and scheduler, but also someone he wanted to bring more to the forefront of the practice. 

This was due, in part, to the fact Hohman can read the room when it comes to patients' trepidations and concerns.
"Expectations really guide feelings when it's something new," she explained. "I think most patients who have never been to a chiropractor are put at ease when they know step-by-step what's going to happen when they come into the office. To be ab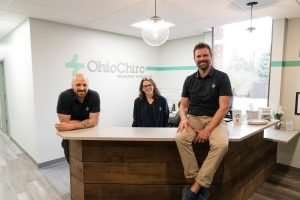 le to educate patients as to what the process looks like is important – whether it's the actual treatment side of things or the financial aspect of being treated."
Perhaps the biggest asset Hohman provides is the ability to provide a kind, understanding tone when it comes to understanding both the medical side of a patient's care and the insurance side and breaking it down for the patient in a way that is easier to understand.
"I'm really good at taking the medical aspects and transitioning things into something that most people can understand," she said. "I think it's important to provide that. It's not only true of treatment but it's true of payment plans and insurance."

In the years leading up to Hohman joining what would later become OhioChiro, Hohman helped New Albany-Plain Local Schools work toward passing and eventually building a new intermediate school building.
Serving as the chair of the Facilities Advisory Committee, Hohman saw the project transition from a dream to a reality over an eight-year period.
Throughout the process, Hohman spoke the language of the everyday person as architects, contractors and school administrators all had their own vernacular, which she was able to break down and make sense to the public, much like she does at OhioChiro.
"I see what we've done at OhioChiro, going from satellite offices to our own facility, as being very comparable to that school," she said. "The amazing things they could do from an education standpoint once they had a different space was great and it's a lot like what we're doing now."